OPENING HOURS OF LISZT FERENC MEMORIAL MUSEUM BETWEEN 19th AND 24th OCTOBER
19 October 2020
We would like to inform our guests that Liszt Ferenc Memorial Museum will be closed on October 19-20-21 and will be open on 22-23-24.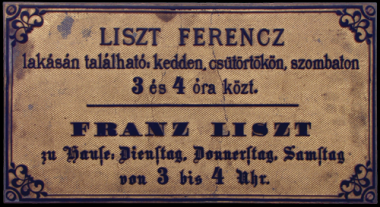 On Thursday, the 22nd from 10 am to 6pm,
On Friday, the 23rd from 9 am to 5 pm, with free admission!
We are open on Saturday the 24th from 9 am to 5 pm.
Staff of the Liszt Museum