Italy Through the Eyes of Franz Liszt
International exhibition jointly organized with the colleagues of the Fondazione Istituto Liszt of Bologna and the cooperation of the Istituto Italiano, Budapest.
The exhibition focuses on two periods of Liszt's life, both related to Italy. In the first section we meet the young piano virtuoso and composer Liszt, who travelled mainly around Northern Italy with his partner princess Marie d'Agoult between 1837 and 1839. Followed by his first visit to Rome in 1839 the second part features the most interesting segments of Liszt's life in his early fifties when he settled down in the Eternal City and spent 9 years in there. His contact with Rome lasted all through his life because after 1869 he left the city but continued his journeys, mostly in the triangle of Rome, Weimar and Budapest.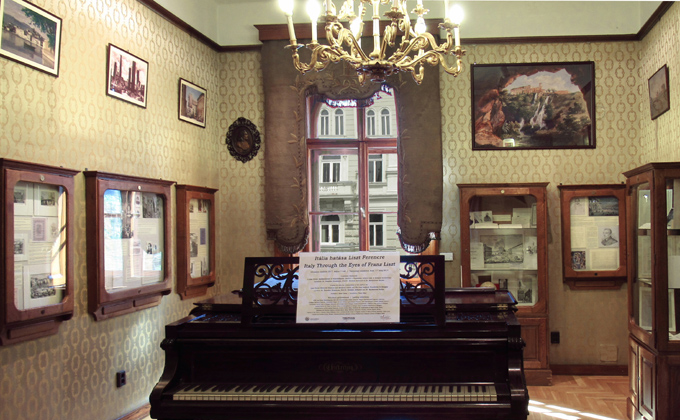 The first years of travel in Northern Italy and the effect it had on the young Liszt is introduced by colleagues of the Fondazione Istituto Liszt Bologna: Professor Rossana Dalmonte and Mariateresa Storino. The second part dealing with Liszt's most important encounters in Rome are exhibited using the material of the Liszt Museum Budapest and a few lending institutions. Some of the displayed documents emphasize very interesting and rarely mentioned musical implications such as Liszt and his relation to Italian church music reformers. Also on the ground floor we displayed a few segments of Liszt's ideas on Italian literature and fine art and how it affected his compositions.