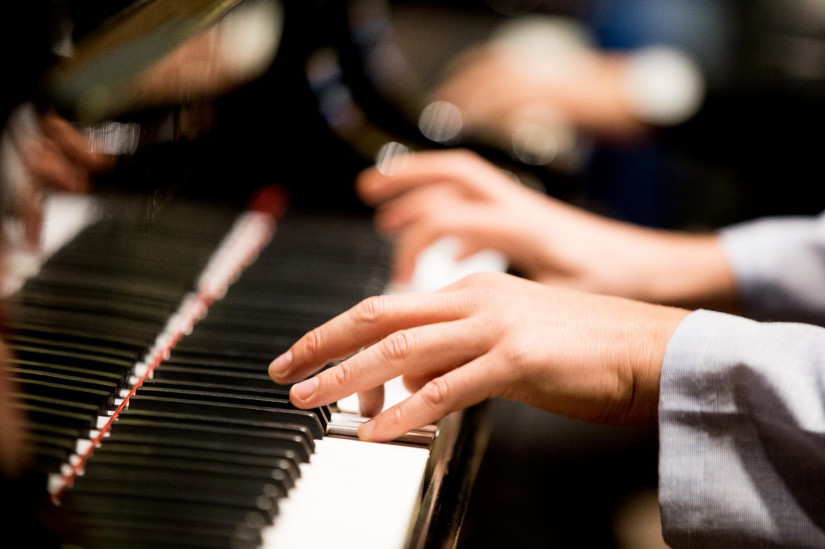 30 May 2019, 19.00-21.00
Old Academy of Music, Chamber Hall
Hosted by the Liszt Academy

Presented by Liszt Academy
Concert by the professors of the Chinese Zhejiang Conservatory and the Liszt Academy
Liszt: Années de pèlerinage, Première année: Suisse – Vallée d'Obermann
Jin Hanwen (piano)
Liszt: Années de pèlerinage, Deuxième année: Italie – Sonetto 123 del Petrarca, Sonetto 104 del Petrarca
István Gulyás (piano)
Schubert–Liszt: 2 Lieder – 2. Auf dem Wasser zu Singen
Schubert–Liszt: Müllerlieder – 2. Der Müller und der Bach
Schubert–Liszt: 2 Lieder – 4. Erlkönig
Sun Jun (piano)
Bartók: Improvisations on Hungarian Peasant Songs, BB 83
Liszt: Transcendental Études – 8. Wilde Jagd
Huang Xiang (piano)
Bartók: Sonata, BB 88
Péter Kiss (piano)
Liszt: Rhapsodie espagnole
Chu Wang-Hua: Jasmine Flower Fantasia
Zhu Hao (piano)
Widespread international connections play and important part in the everyday life of the Franz Liszt Music Academy. Meetings of young musical talents and their teachers enforce the exchange of ideas about interpretation and education skills, contributing thus to a diverse, complex knowledge of music. The project named "16+1" covers one of these cooperations, which is truly unique and involves the academies of the following countries: Albania, Bosnia and Herzegovina, Bulgaria, Croatia, Czech Republic, Estonia, Hungary, Latvia, Lithuania, North Macedonia, Montenegro, Poland, Romania, Serbia, Slovakia, Slovenia and China.
The Liszt Ferenc Academy of Music has a long tradition of fruitful cooperation with conservatories in China. Among these, a prominent role is played by the Zhejiang Conservatory, the Shanghai Academy of Music and the Beijing Central Conservatory of Music as well. Within the "16+1" project we now have the honor and pleasure to host a concert which will be given by the piano professors of the Zhejiang Conservatory together with pianist István Gulyás representing the Piano Department and pianist Péter Kiss representing the Chamber Music Department of the Liszt Academy.
Presented by
Liszt Ferenc Academy of Music
Tickets:
Admission is free, subjected to the capacity of the room.