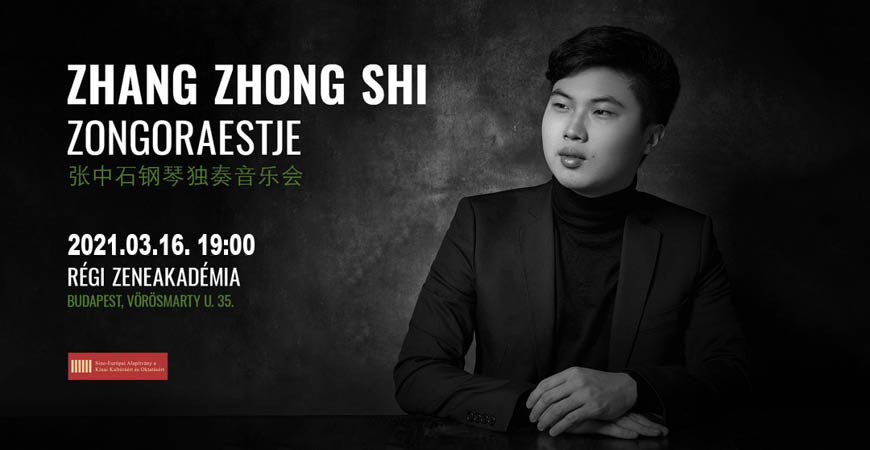 16 March 2021, 19.00-21.00
Old Academy of Music, Chamber Hall
Zhang Zhong Shi Piano Recital
Cancelled
Chopin: Ballade No. 1 in G minor, Op. 23
Schumann: Faschingsschwank aus Wien, Op. 26
Schumann: Variations on an Original Theme in E-flat major, WoO 24 (ʻGeister-Variationen')
Liszt: Années de pèlerinage, Deuxième année: Italie – 7. Après une lecture du Dante: Fantasia quasi Sonata
Zhang Zhong Shi (piano)
Zhang Zhong Shi was born in Budapest in 1996 and started piano studies at the age of seven. In 2008 he took second place at the National Bartók Béla Piano Competition and in 2012 he was awarded the bronze medal at the Euterpe International Music Competition in Italy by a jury headed by Marcello Abbado. In 2015 he appeared at the Stravinsky Marathon organized in Müpa Budapest Festival Theatre. The programme was broadcast live by Bartók Radio. In 2016 he won a place at the Liszt Academy where he studied under Gábor Eckhardt, László Baranyay and Gábor Farkas. In 2017 he was awarded a Bank of China scholarship, for the gala of which he performed in the Grand Hall of the Liszt Academy. In 2018 he gave a solo recital in the Ceremonial Hall of Benczúr House and he took part in the Gödöllő International Liszt Festival. In 2019 he was soloist at a programme in the Ceremonial Hall of Duna Palace and he appeared at the gala of the United Nation's Chinese Cultural Day in Vienna.
Dear Audience,
Due to the deterioriating pandemic situation, the management of the Liszt Academy has decided not to hold live broadcast concerts between 8 and 24 March.
Thank you for your understanding!
Presented by
Sino - European Foundstion Of Chinese Culture and Education