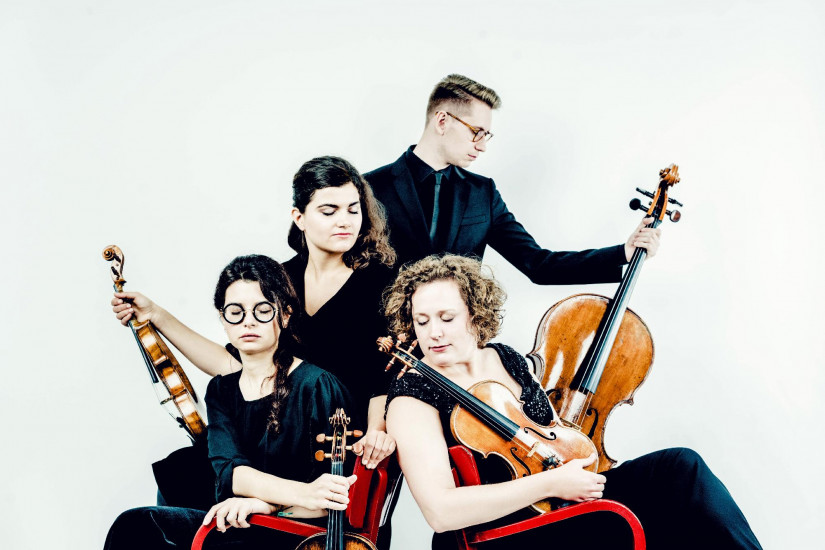 5 November 2021, 19.00-21.00
Solti Hall
ECMA showcase

Presented by Liszt Academy
Concert of the ensembles supported by the European Chamber Music Academy (ECMA)
Beethoven: String Quartet No. 13 in B flat major and Grosse Fuge, Op. 130 & 133
Chaos String Quartet: Susanne Schäffer, Eszter Kruchió (violin), Sara Marzadori (viola), Bas Jongen (cello)

INTERMISSION

Martinů: Piano Trio No. 3 in C major
Trio Bohémo: Matouš Pěruška (violin), Kristina Vocetková (cello), Jan Vojtek (piano)
Liszt: Carnival in Pest (piano trio version of the Hungarian Rhapsody No. 9)
Trio Bohémo: Matouš Pěruška (violin), Kristina Vocetková (cello), Jan Vojtek (piano)
The Liszt Ferenc Academy of Music has also joined ECMA PRO, the international program of the European Chamber Academy of Music (ECMA). ECMA has been operating successfully for more than a decade and a half. As a defining workshop of 20th century chamber music traditions, the Chamber Music Academy aims to present young formations, boost their professional careers through masterclasses, workshops, festival performances and showcase-type concerts. The ECMA PRO Budapest round of 2021 will be organized by the Liszt Ferenc Academy of Music between 4-6 November.
Made up of international members the Chaos String Quartet was founded in 2018. The basis of their performing ars poetics is to boldly overcome the sometimes shallow and superficial aesthetic approaches by taking on unexpected situations and risks, hence the formation's name. The string quartet is the winner of several international competitions and it is also famous of their outstanding performances. In 2020 the quartet won the award for the most promising formation of the 65th Jeunesses Musicales International Chamber Music Campus. Since the formation of the ensemble, they have been invited to various festivals and chamber music concert series. Their current mentor under ECMA is the Viennese master, Professor Johannes Meissl.
The Trio Bohémo, formed in 2019 and consisting of Czech members, has a clear connection to Budapest: its members got to know each other here, then they forged into a trio in the graduate chamber music training of the Liszt Ferenc Academy of Music. Furthermore, the cellist and pianist of the formation also graduated from the Academy of Music. The trio won the 2nd place at the Gianni Bergamo Prize in Lugano in 2019 and it was included in the selected ensembles of ECMA in 2020. Since then, Hatto Beyerle, Patrik Jüdt, Johannes Meissl, Avedis Kouyoumdjian have been mentoring the trio. In 2021, they won the prestigious Brahms competition in Pörtschach in the chamber music category.
Presented by
Liszt Ferenc Academy of Music
Tickets:
Free tickets can be claimed at the Ticket Office of the Liszt Academy one month before the concert.