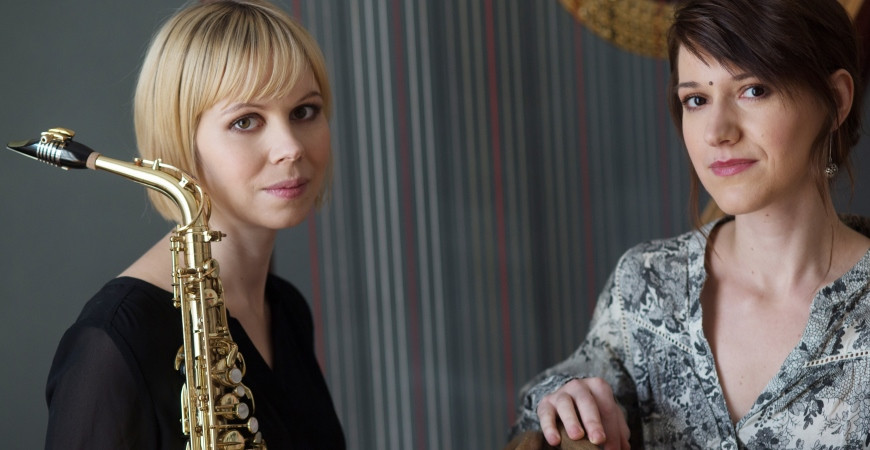 20 January 2022, 19.00-21.00
Old Academy of Music, Chamber Hall
Chamber Music, So Close Spring 2022
Duo SeRa 10

Presented by Liszt Academy
Concert of Erzsébet Seleljo and Anastasia Razvalyaeva
Time change
Bumcke: Notturno, Op. 45
Ida Gotkovsky: Eolienne
András Gábor Virágh: Waves
Debussy: Children's Corner – excerpts (arranged by Georges Lambert and Erzsébet Seleljo)
Erkki-Sven Tüür: Prints (arranged by Seleljo Erzsébet)
Barry Cockroft: Melbourne Sonata
Erzsébet Seleljo (saxophone), Anastasia Razvalyaeva (harp)
Initially, the joining of harp and saxophone may sound unusual but 10 years ago, in fact as a consequence of a completely random meeting, Anastasia Razvalyaeva and Erzsébet Seleljo immediately recognized that this instrumental combo could prove the basis for a long-term partnership between them. Through their duo they have presented numerous new works written specifically for them, or created exciting arrangements from earlier works. In 2014, they stepped up with their own concert series where they featured new compositions by contemporary Hungarian composers such as Péter Zombola, Márton Levente Horváth, András Gábor Virágh and Péter Tornyai. For this, their anniversary concert, the pair are also performing Barry Cockroft's three-movement sonata originally written for soprano saxophone and piano and composed a decade ago. Many consider it to be the defining work of the 21st century contemporary saxophone canon.
Presented by
Liszt Academy Concert Centre
Supporter:
Dear Audience,
We regret to inform you that the 20 January 2022 date of the Chamber Recital of Erzsébet Seleljo and Anastasia Razvalyaeva has been changed. The concert will be held on 25 February 2022 with the same programme. Tickets purchased are valid for the new date.
Thank you for your kind understanding!
Tickets:
HUF 2 000